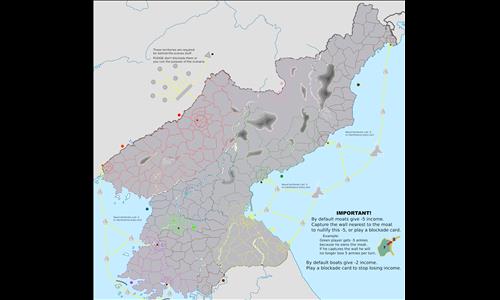 Zombies vs North Korea
Unlocks at level 5 or with the
Mega Maps Pack
#Real World
Created by
Dalas120
(
all
)
Went public on 9/21/2016
Number of ratings: 27
Average rating: 2.8148 / 5
386 territories, 166 bonuses, 1 distribution mode
Description
A disasterous bioweapon test has spread zombies across North Korea!

Comes with zombie pits, naval territories that require maintinance, and walls that are ACTUALLY DEFENSIBLE.

Meant to be played with the North Korea vs Zombies template - also by Dalas. https://www.warlight.net/MultiPlayer?TemplateID=923740

Batteries not included.
Reviews
Review by

NinjaNic

on 9/22/2016.
Batteries not included? More like instructions not included. I had a little difficulty understanding this map. There were no scenarios. What are the zombie bases for?

However, this map looks very nice and only needs little improvements in the bonuses side. (Needs more.)
3 out of 4 people found this review helpful.
Review by
Andalorium
on 9/22/2016.
So the idea is a solid one love the thought, but there are some things I'd do to make it work better first fix the connection issues I'll list the ones i found, second I'd have another Warlight does not allow separate territories so that you can default a outrageous blockade and still have inner zombie fighting for spawn pits, and then have specific team scenarios set up. The borders seemed really rough which might have contributed to the connection problems I found

Needed: Sariwon
2 out of 2 people found this review helpful.
Review by
Ronzplay
on 6/15/2017.
stopped getting armys by turn 12, nothing to do at that point but die. lol
1 out of 1 person found this review helpful.