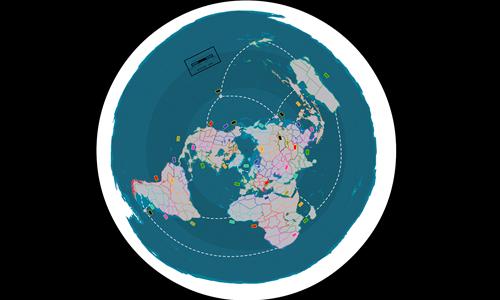 Flat Earth
Unlocks at level 36 or with the
Mega Maps Pack
#Strategic
#World
#Fantasy
Created by

Belgian Gentleman
(
all
)
Went public on 1/3/2017
Number of ratings: 36
Average rating: 3.5833 / 5
186 territories, 39 bonuses, 0 distribution modes
Description
Perhaps one of the most controversial maps ever made in Warlight. The map is inspired by the Warlight player BUFFALO and was revealed to the public in a thread on 9/12/16, but the thread became quickly downvoted thereafter resulting in its hidden status.

I, myself do not believe in the Flat Earth theory but I do want to support all discourse between different ideas and opinions.

The projection that is used is the azimuthal equidistant projection. Largely used for calculating distances from the center point and is used as the official eblem to represent the UN. All areas are not equal on this map. The farther it is away from the North Pole, the bigger it appears on the map.