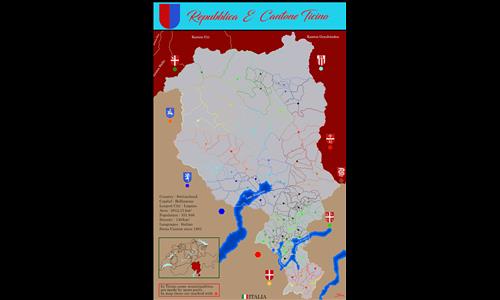 Repubblica e Cantone Ticino
Unlocks at level 14 or with the
Mega Maps Pack
#Real World
Created by

Stirax
(
all
)
Went public on 8/21/2016
Number of ratings: 34
Average rating: 3.7352 / 5
255 territories, 63 bonuses, 2 distribution modes
Description
[1st Map]
The Repubblica e Cantone Ticino is since 1803 one of the 26 cantons of Switzerland. It is one of the two cantons where italian is the official language. Bellinzona is the capital and Lugano is the largest city.
The map depicts the canton and how it looked in 1995, before the beginning of the merging process that reduced the number of municipalities from 245 to 130.

[Version: 1.2]
Reviews
Review by
Nathan

on 8/27/2016.
This map provides great detail on a very intricate area of Switzerland.

EDIT - Stirax has done an excellent job of highlighting the discontinuous territories in this region, making the map very easy to follow and play on. 5 stars!
Thank you Nathan! Glad you like it
6 out of 6 people found this review helpful.
Simply amazing, finally this map exists! And I'm not saying this just because I live there!
2 out of 4 people found this review helpful.
Review by
Andalorium
on 9/5/2016.
First off I really dislike any bonus that is defaulted to zero, second I hate territories that are "one" territory but not connected in a single land mass, third your territories range of size in inconsistent which just makes it difficult to have to zoom in and out and figure where are my units truly going. not a fun map for me.
In the new versions the zero bonus are removed. For the other points you mentioned, I tried to make this map as similar as possible to the real political divisions, therefore I won't make changes.
Hope you can still enjoy it
0 out of 4 people found this review helpful.