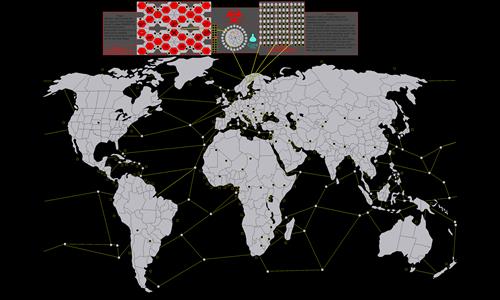 Plague Inc. In Warlight (Plague Game)
Unlocks at level 10 or with the
Mega Maps Pack
#Fictional
Created by
Tady
(
all
)
Went public on 1/30/2017
Number of ratings: 29
Average rating: 3.1034 / 5
668 territories, 293 bonuses, 1 distribution mode
Description
Just a map, created to make Warlight more interesting. It's like "new mode" to Warlight that I maded. Pedrito and BUFFALO's map: World Nations 2012-2014 really inspired me to make this map (thats why some things are like from their map :D) But Plague inc idea came to my head when i played actual: Plague inc game and Warlight. So i thought: why i wouldn't make a warlight map thats combined with Plague inc??Letz do thiz!! :DD So... Thats how this map was created! Hope you will enjoy! ;)

And one more thing... Original and best Custom Scenario will be created by me, Becouse there will need to be proper neutral army numbers for Human and Plague Upgrades, Plague always needs to start with Big stack of armies and etc... ;)

Story: Plague started to spread around the world. To defend themselves and destroy plague, humans set up a research base in most healthiest country-Sweden to research the cure.Sweden is the way to "Cure Circle" and human upgrades bar.
Reviews
Review by
Andalorium
on 2/18/2017.
First I love the idea, BUT I have some thoughts, first I think the map would play better as a diplomacy map, I know any bonuses on the world map could not really make up for the cure and plague bonuses but still it would be better. Second there are a lot of messed up and missed connection throughout the world map portion, normally I'd try and give some hint but there was close to twenty or more, which means it needs some adjustments before I could truly love this map.
3 out of 3 people found this review helpful.
Review by

Zephyrum
on 2/2/2017.
I like the concept, but there's one deadly flaw that makes this a 4/5: Alaska is part of Canada in Plague Inc. #Hay-Herbert
3 out of 4 people found this review helpful.
Review by
Bart Jansen
on 2/27/2019.
Nice aspect of capturing bonuses for fighting of the plague.
0 out of 0 people found this review helpful.
Review by
Aaron
on 3/12/2023.
nice
0 out of 0 people found this review helpful.