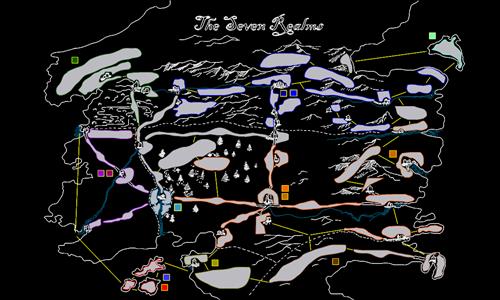 The Seven Realms
Unlocks at level 3 or with the
Mega Maps Pack
#Fictional
Created by
Green11ndy
(
all
)
Went public on 7/19/2016
Number of ratings: 19
Average rating: 2.5789 / 5
66 territories, 14 bonuses, 1 distribution mode
Description
A map based off the seven realms book series by Cinda Williams Chima.
Reviews
Review by

Niobium2
on 7/21/2016.
I think this map could have been vastly improved by reading some of the Warlight map guide first. I'm legitimately curious as to how was this even published. The territories are too small- the numbers go outside the bounds, and they look misshapen and ugly. And too long and thin!

I tried a few games on it, the balance was not that great- the main north and south bonuses were too large to be effective. The one redeeming feature of this map is the background art, which is at places actually really nice. That said, several lines look like they have too many nodes- as do the territory edges.

At the moment, I give it 1/5- it's hardly playable. If you wanted to make it better I would advise studying Inkscape or whatever SVG editor you use and gaining more practice with simplifying / territory shape / integration of background art.

It seems you legitimately put some time into this, and it's a shame that the crude SVG ruins it.
Response by map creator
Green11ndy
on 7/21/2016
If you look at my other maps, they are quite a bit better. This was just a side project. But I can make the boxes bigger. I did try to smooth it all out. but as there were so many hand drawn lines, it is likely I missed some. The long skinny territories are roads. I actually did some rebalancing. I had first tried to make the Bonuses line up with what was happening in the book, but then realized it would be unbalanced and so reduced them greatly. If you have suggestions for redoing bonuses, then be my guest. Again this was more of a side project, compared to my other maps.
1 out of 1 person found this review helpful.
Review by
Andalorium
on 8/26/2016.
The background drawings made it hard to initially know what areas connected, and what was with all the random territories worth nothing, with several large bonuses and some really quick and easy ones it just felt thrown together instead of planned out and well tested
0 out of 0 people found this review helpful.
Review by

AbsolutelyEthan

on 9/26/2016.
The blackboard idea is pretty cool, but it could use more work.
0 out of 0 people found this review helpful.