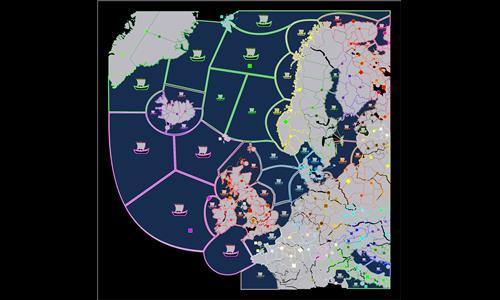 Super Slice of Europe
Unlocks at level 47 or with the
Mega Maps Pack
#Real World
Created by

[ROME]Scotto13
(
all
)
Went public on 8/31/2016
Number of ratings: 26
Average rating: 3.5769 / 5
338 territories, 136 bonuses, 7 distribution modes
Description
A vertical slice of Europe from Murmansk to the ankle of Italy, focusing particularly on the nations of the Baltic, North, Norwegian, Ligurean, and Adriatic Seas.

"Clash of the Cathedrals" distribution offers 6 possible start positions, at St. Peter's (Vatican), St. Mary's (Warsaw), Notre Dame (Paris), the Iona Abbey (Glasgow), Storkyrkan (Stockholm), and Kizhi Pogost (Karelia, Russia).
Reviews
Review by
Andalorium
on 9/5/2016.
there are several borders that look really rough, and the connection lines between the ships is not as clear as they could be interesting map, it just needs to be cleaned up a little
Response by map creator

[ROME]Scotto13
on 9/7/2016
can you give me an example of a "rough" border? and which ship connection lines you found unclear?
0 out of 4 people found this review helpful.