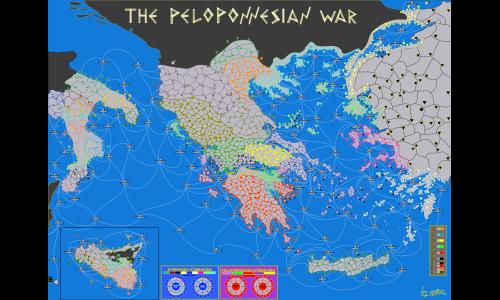 The Peloponnesian War
Unlocks at level 49 or with the
Mega Maps Pack
#Real World
#Diplomacy
Created by
apollong3
(
all
)
Went public on 6/29/2017
Number of ratings: 38
Average rating: 3.9736 / 5
1427 territories, 1494 bonuses, 0 distribution modes
Description
Here we go. I've been sparsely working on this map for more than a year now, and it's finally done!

This was the map I first started working on. As you move from Peloponnesos and mainland Greece to Anatolia, to Thessalia and Makedonia, across the Ionian sea to Sicily and Italy, you will see the styles of territories changing as I progress from a noob to a somewhat competent mapmaker.

Also, note that many of the territory names are not exactly historical

Please PM me or leave a review message if you find any issues with this map

Hope you enjoy!