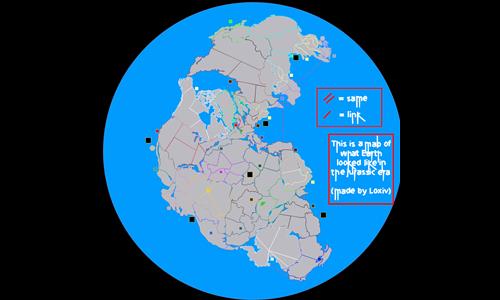 Laurasia and gondwanaland (jurrassic)
Unlocks at level 15 or with the
Mega Maps Pack
#Real World
Created by
Loxiiv

(
all
)
Went public on 6/30/2016
Number of ratings: 17
Average rating: 3.1176 / 5
119 territories, 38 bonuses, 0 distribution modes
Description
This is my first map :D
I thought I would create a dinosaur age map, so here we go.

CREDITS:
Thanks to DerWyyy and Death for correcting errors and huge thanks to Oculus for testing this.
Reviews
Review by
Nathan

on 6/30/2016.
Nice little map. It is somewhat similar to a previous Pangaea style map, but I like how the territories are divvied up in this one. Despite the clumped landmass, the territories are fairly easy to conquer and hold.

It can be difficult to see how some territories connect, particularly Caribbean Coast and South East USA, which should probably have a line connecting them.
3 out of 3 people found this review helpful.