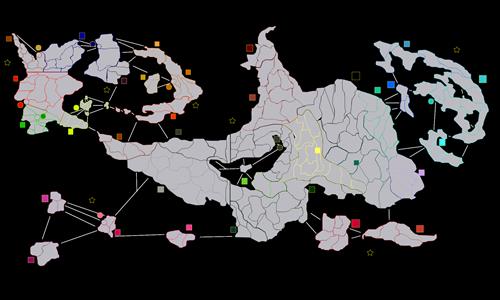 The Lands of Galanaear
Unlocks at level 4 or with the
Mega Maps Pack
Created by

Beardon
(
all
)
Went public on 6/21/2016
Number of ratings: 31
Average rating: 3.5806 / 5
236 territories, 50 bonuses, 6 distribution modes
Description
Includes Craganod, the Fyn Sea, Ghaltagar, Vys, Golifar, The Southern Isles, and Folassa Grunn.
Reviews
Review by

NinjaNic

on 6/25/2016.
Amazing map! A huge improvement from your last one, which was already great. This one looks so much more appealing and has a perfect number of territories for teams of 3 or 4. The only thing I would suggest is to lower the bonus value for capitals. Right now I would recommend players only to use one of the available distributions. I can easily say that I love this map and I can't wait to see more! Good work!
2 out of 2 people found this review helpful.
Review by
okasan
on 6/23/2016.
Very enjoyable map, with high bonus for strategically placed single countries, and similar bonuses for larger territories. This allows for different strategies and even enables some unlikely comebacks. Coldspring and Fogport should connect.
1 out of 1 person found this review helpful.
Review by
warhawk
on 8/2/2016.
Pick your starting locations carefully, fun little map.
0 out of 0 people found this review helpful.