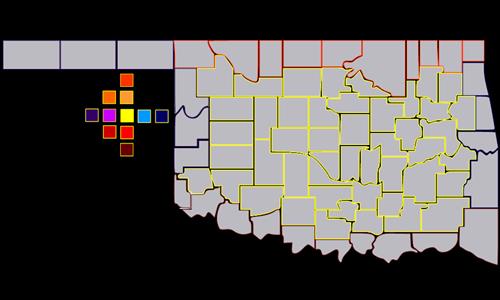 Oklahoma
Unlocks at level 42 or with the
Mega Maps Pack
#Real World
Created by
Clint Eastwood
(
all
)
Went public on 7/19/2016
Number of ratings: 16
Average rating: 2.9375 / 5
77 territories, 11 bonuses, 0 distribution modes
Description
All the counties in Oklahoma. Let me know what you think. It's my first map though, so don't be too harsh if you hate it.

Map #1
Reviews
Review by
The Supreme Mugwump
on 8/25/2016.
For startL very poor placement of bonus labels, borders between areas are mismatched (either areas are touching or separated).
2 out of 3 people found this review helpful.
Review by
Andalorium
on 9/5/2016.
I like the idea, but the borders between territories need to be smoother, the bonuses need to be better divided out, and with the cleaned up borders double check connections. Good effort clean it up and try again
1 out of 1 person found this review helpful.