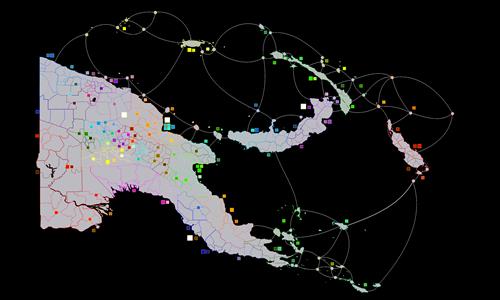 Papua New-Guinea (Detailed)
Unlocks at level 46 or with the
Mega Maps Pack
#Real World
Created by
[NL] Hendrik
(
all
)
Went public on 8/3/2016
Number of ratings: 39
Average rating: 3.9487 / 5
427 territories, 137 bonuses, 2 distribution modes
Description
A detailed map of Papua New-Guinea
Reviews
Review by
Nathan

on 8/3/2016.
I cannot adequately relate my level of excitement at seeing this map for the first time. Papua New Guinea is a fascinating case of incredibly varied geography and I am thrilled to see it captured in exquisite detail.

The map itself makes excellent use of terrain features and does an excellent job of breaking the highlands up into tiny tribal fiefdoms, which I find to be geographically appropriate. Thanks to the numerous islands, movement can be rapid and players can approach the game with a number of strategies.

A sidenote of possible interest - people who played World of Warcraft during the Lich King expansion may notice some similarities between the names of various Oracles in Sholazar Basin and the place names on this map.


Although I give this map 5 stars, I did find one error - Orokana should not connect to Kagua (Southern Highlands Province). EDIT - now corrected - thanks!
Response by map creator
[NL] Hendrik
on 8/3/2016
Thank you for your review, I am very glad you like my map! I will change the connections in Southern Highlands Province.
5 out of 5 people found this review helpful.
Review by
Andalorium
on 9/19/2016.
Decent map, fun play through, though there was one connection issue. Sirunki
1 out of 2 people found this review helpful.