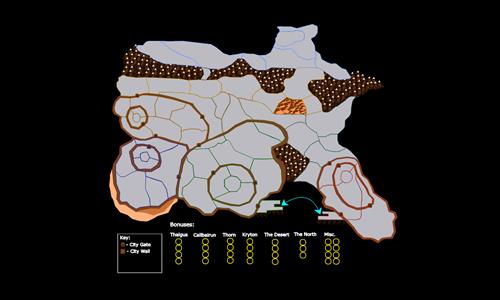 The Imperial Sovereign
Unlocks at level 2 or with the
Mega Maps Pack
Created by
Mooniepie
(
all
)
Went public on 4/19/2016
Number of ratings: 26
Average rating: 2.5769 / 5
63 territories, 31 bonuses, 5 distribution modes
Description
This map is from a RPG a friend and I are in the process of creating. On this Island, there are four Imperial cities; these cities are built in rings around a central Temple. Each city ring is defined by a 300ft. wall.
Reviews
Review by
Nathan

on 4/20/2016.
The bad news is that this map is unplayable. The bonuses are enormous, the territories comprising them are scattered and small in number. Everything depends on position. In a map of this size, especially one with single-territory bonuses and significant negative bonuses, you must have starting distributions. Woe betide the unlucky player starting on Vile Wind Pass with a -15 bonus right out of the gate!

The good news is that this problem is easily fixable. Moderate the bonuses and create a few distributions. That should dovetail nicely with the RP element you are going for.

Aesthetically, it would be nice to write the name of each nation next to it. As things are, their arrangement at the bottom (left to right) appears to be reversed their placement on the map.
Response by map creator
Mooniepie
on 5/1/2016
Thanks for the review Nathan. This is my first map, clearly. I do not fully understand distributions yet, but am slowly working towards being able to implement it confidently. However, there are things in which I have done intentionally. These being the high negative bonuses as well as the relatively high single-territory bonuses. These are because of the story of the map and the civilization that inhabits it (Though, I am aware that I have yet to give any decent explanation of this in the description of the map). This map, as well as The Evpitoria System map, are designed to be 1v1 or 3 player maps. I do really want to impliment a distribution system for both of these, though.
3 out of 3 people found this review helpful.
Review by
Andalorium
on 10/21/2016.
I really like the idea, layout, and strategy of the map with the negative bonuses, the art and background could use a little more work but was okay, but there where connection issues that really bothered me, and on such a small map, these need connections between them, Callbairun Wheat Farms
0 out of 0 people found this review helpful.
Review by
Turkish
on 5/8/2016.
:(
0 out of 1 person found this review helpful.