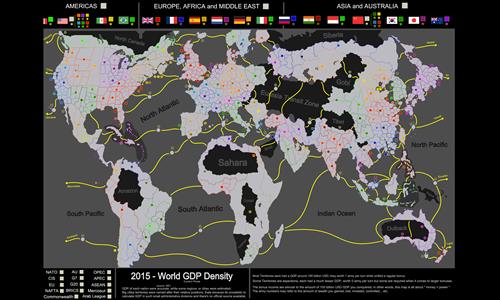 2015 World GDP
Unlocks at level 10 or with the
Mega Maps Pack
Created by
muligan
(
all
)
Went public on 5/17/2016
Number of ratings: 70
Average rating: 4.0571 / 5
762 territories, 277 bonuses, 4 distribution modes
Description
Have you ever wonder that economy > millitary in modern days? Well, here comes an economic world map, which territories and bonuses are totally based on 2015's world GDP distribution.
(source : IMF, nominal and other regional GDP datas.)

Some facts you need to know about this map :
1.Most territories had roughly 100 billion US dollars GDP in each during the end of 2015, they worth 1 army when unified a bonus.

2.Same as the Asia population one, some territories are exceptions, which had less than 100 billion US dollars GDP in each and worth 0 army .

3.The top 17 nation got their own unification bonus and core city bonus.While two tremendous economy: US & China got additional region unification bonus and regional city bonus.International organisations also got their bonus. Bonuses mentioned in this paragraph all worth 1 army each.

4.A lot of geography might look weird (ex: Eurassia transit zone) due to inequality between regions distorted their real shape.

5.For more infos, check the bottom of the map !