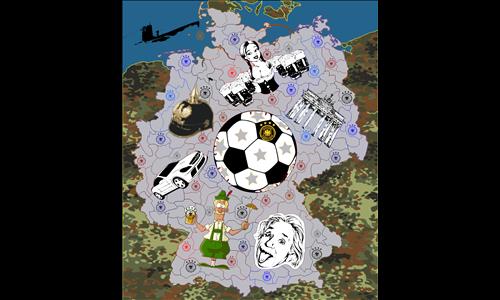 FusssBall
Unlocks at level 27 or with the
Mega Maps Pack
#Novelty
#Real World
Created by

Kain
(
all
)
Went public on 10/5/2016
Number of ratings: 75
Average rating: 3.7333 / 5
146 territories, 39 bonuses, 13 distribution modes
Description
FusssBall - a twisted map of Germany.
Map is designed for 2v2, 1v1 or FFA games.
Bonusses are balanced and valued (n-1). No superbonusses.
13 distribution modes


General map layout is divided into 3 functional layers:
1) outer ring - composed of bigger bonusses connected laterraly by narrow passages (without choke points)
2) inner ring - composed of smaller bonusses scattered around the perimeter of big ball. Some choke points placed between them.
3) big ball - positioned centrally, serves as a big hub which shortens the passge from north to south (to counterballance a bit streched geography of Germany)


1v1 template ("Hools"):
https://www.warlight.net/MultiPlayer?TemplateID=929400



Great thx for all those who helped me with the creation of this map, especially testers, Mr T (for his contribution into creating "Hools" template) and Dr.Awkward (author of most of the territory/bonus names)

If you like this map then check my previous one - "Polandball"