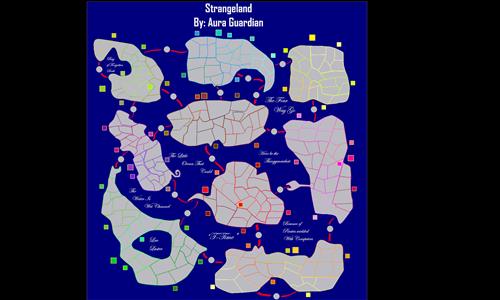 Strangeland
Unlocks at level 36 or with the
Mega Maps Pack
#Fictional
Created by

Aura Guardian

(
all
)
Went public on 1/28/2016
Number of ratings: 22
Average rating: 3.4545 / 5
265 territories, 62 bonuses, 0 distribution modes
Description
This map started with me trying to get used to inkscape's tools again after my hiatus from warlight. It turned into a whole new map, I guess.

My fourth map overall (Fifth to go Public).
My first map that is independent of any series.
Reviews
Review by
Nathan

on 1/28/2016.
The best thing about this map are the territory names, which are hilarious. Aside from that, it is a solid, well-balanced map.

You might think about including optional superbonuses for each of the islands, as they seem to lend themselves well to it. You might also consider adding a few scenarios or distributions to make gameplay more interesting.

EDIT re superbonuses:

My bad - I didn't notice that.
Response by map creator

Aura Guardian

on 1/29/2016
Actually, there are optional super bonuses. They are set to zero. I will add distributions in 1.1

EDIT: Its okay. I am happy that you actually looked back to see if I replied to your review.
1 out of 1 person found this review helpful.
Review by
[REGL] Pooh

on 2/10/2016.
The North East Island is overrated for no particular reason.
Response by map creator

Aura Guardian

on 2/11/2016
It is a bit more isolated, and more difficult to expand from, as well...
0 out of 0 people found this review helpful.