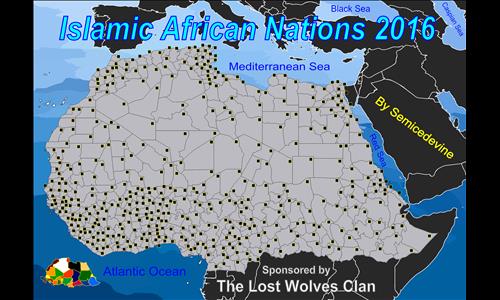 Islamic African Nations 2016
Unlocks at level 2 or with the
Mega Maps Pack
#Real World
Created by

Semicedevine

(
all
)
Went public on 1/16/2016
Number of ratings: 127
Average rating: 2.7322 / 5
456 territories, 483 bonuses, 11 distribution modes
Description
A map based on the 1-bonus-for-every-territory concept.

Important Disclaimer: "Islamic", as in, "somewhat historically influenced and/or affected by Islam".

Other Disclaimer: Somalia is recognized as Islamic, but was purposely excluded to reduce map size.

Map project was originally started in May of 2015 and took 6 months longer than was expected to complete.

The theory behind the income balancing is that large countries will typically spend lesser portions of their money to finance the military, where as smaller countries will spend a much larger portion of their money on their military.

Whether or not the total income of a nation in this map is higher than another is based directly on the GDP each nation possess, with a few exceptions for small countries such as Togo, Guinea-Bissau, and Gambia. The country's total income is then distributed to its territories based on how population is distributed in the country. Territories with very few people in a country with low GDP will have very little incomes.