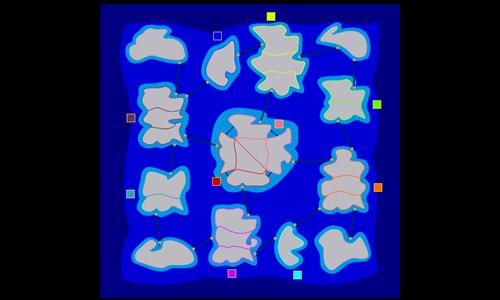 The Philosophical Islands
Unlocks at level 22 or with the
Mega Maps Pack
#Fictional
Created by
Mr_Jenius
(
all
)
Went public on 10/30/2015
Number of ratings: 26
Average rating: 3.6153 / 5
28 territories, 10 bonuses, 7 distribution modes
Description
***FOR THE BEST EXPERIENCE MAKE SURE THE MOVE ORDER IS NOT RANDOM*** The Philosophical Islands is a four corner 2-4 player map developed to be more pleasing to the eye rather then strategic, but the center island mechanics prove to be a challange to wrap around, master them and you can control the game
Reviews
Review by

NinjaNic

on 10/31/2015.
I have a hard time figuring out why the distribution mode "4 Islands" includes 4 islands but only 2 of them have an income bonus. Also, I did not like the nearly completely square territories. The blue background is a nice touch though.
It's an okay first map.

Edit: I didn't mean to be a "tough grader." But since you put some hard work into this, that's all that matters.
Response by map creator
Mr_Jenius
on 11/7/2015
Hello NinjaNic! Thanks for your feedback and review :)

Originally the two corner islands that are only connected one way did not have 1 bonuses, if you pay close attention they have a disadvantage when it comes to expansion, which means adding a bonus can balance it, it can be intimidating at first when the other person starts with 7/turn (In the most extreme conditions) but you can turn the tide if you expand correctly. However this may not be evident to some people at first, probably not something that's very good to have in a 1v1 map, but it's my first map, plenty I will need to learn.
***EDIT***
I have switched the bonus to the two neighboring islands so that all side islands have bonuses, seems logical and still balancing, but not overpowering like before. Once again huge thanks for your feedback, it has helped shape this map into a better version
***EDIT 2***
I have edited all the territories adjacent to each other for some rougher boundaries! The center islands are a little over the top but okayish
3 out of 3 people found this review helpful.
Review by
[REGL] Pooh

on 11/2/2015.
Overall a very neat and fun duel map. I played 1v1 with 2 starts each, but this may even work as a 4P FFA or a 2v2. To add a bit of randomness, maybe a 1v1 with 1 auto start?
Nice, and small, map overall.
Response by map creator
Mr_Jenius
on 11/5/2015
I definitely think the four islands with 1 auto-placement could be interesting
1 out of 1 person found this review helpful.
Review by
Danto97
on 11/6/2015.
Great little map for small, quick and competitive games
1 out of 1 person found this review helpful.
Review by
PJABBER
on 11/11/2022.
Nice simple map to try and out think an opponent.
0 out of 0 people found this review helpful.