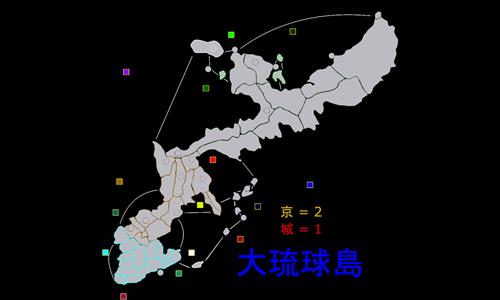 Ufu-Ruuchuu Shima
Unlocks at level 5 or with the
Mega Maps Pack
#Real World
Created by

Sturmgewehr88
(
all
)
Went public on 4/18/2016
Number of ratings: 17
Average rating: 3.0 / 5
75 territories, 34 bonuses, 5 distribution modes
Description
Ryukyuan divisions of Okinawa Island. Shuri, Urasoe, Nakijin, and Nanzan castles are worth 2 bonus armies as capitals. All other castles and Mount Gusuku are worth 1 bonus army.
Reviews
Review by
Nathan

on 4/20/2016.
The bonus areas overlap and are oddly proportioned. While I presume the Japanese characters indicate which types of territories receive 1 and 2 army bonuses, non-speakers won't be able to distinguish from terrain features which territories those are.
0 out of 0 people found this review helpful.