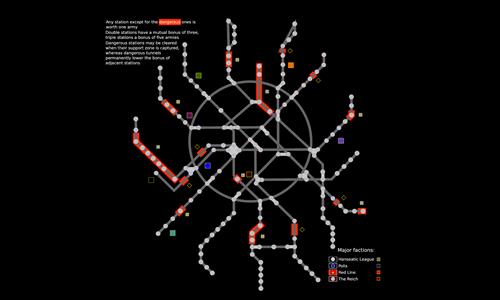 Metro 2033 - Moscow Metro
Unlocks at level 6 or with the
Mega Maps Pack
#Novelty
Created by
TheoneandonlyBen
(
all
)
Went public on 9/11/2015
Number of ratings: 33
Average rating: 3.4242 / 5
169 territories, 162 bonuses, 1 distribution mode
Description
The Moscow Metro as in Dmitry Glukhowsky's novel "Metro 2033" and the related PC game.
Twenty years after a devastating atomic war, the people of Moscow still hide in the Metro to avoid deadly radiation and mutants at the surface. Over the years, supporters of different ideologies teamed up. Now it may come to mankind's last war.
Reviews
Review by
Nathan

on 9/16/2015.
It took a while to get the hang of the varied bonuses in this map, but once you do it can be quite entertaining. The explanations could be a bit simpler.

The bonuses themselves also need to be labeled more clearly and consistently.
8 out of 9 people found this review helpful.
Review by
Aaron
on 2/23/2023.
nice
0 out of 0 people found this review helpful.