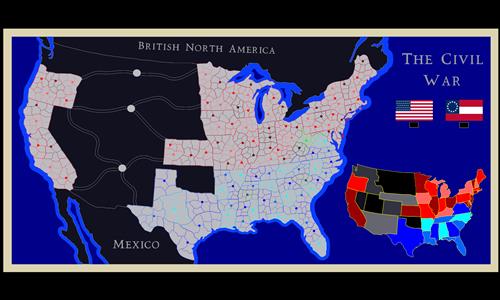 US Civil War
Unlocks at level 11 or with the
Mega Maps Pack
#Real World
Created by

Imperator
(
all
)
Went public on 1/4/2016
Number of ratings: 122
Average rating: 3.9262 / 5
614 territories, 139 bonuses, 2 distribution modes
Description
Alright, this is my map of the USA during the 1860's when we had a big civil war.

I called it "The Civil War" on the actual map itself not because I'm ignorant of the fact that basically every country has had one or more civil wars, but because that's what it's taught as in the United States, where I live. I felt it was appropriate since I named the map "US Civil War".

If you're from the south like I am, you'll notice that blue is a yankee color, so wtf is up with me making the CSA blue on this map? Well yes, blue is a yankee color, but this is a moslty political map, as it was a moslty political war, so I decided it would be appropriate to color the countries based on the parties that were running them. Democrats were mostly runnig things in the south, so That's Blue, and up north there were mostly republicans, so it's colored red.