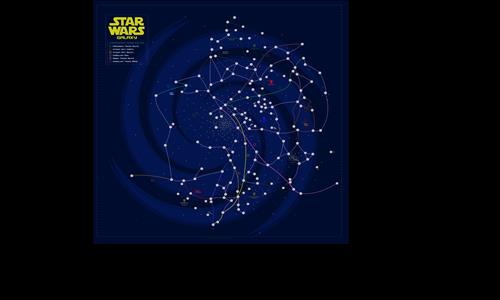 Star Wars Galaxy
#Novelty
Created by
xezene
(
all
)
Went public on 12/19/2015
Number of ratings: 85
Average rating: 3.8705 / 5
169 territories, 193 bonuses, 12 distribution modes
Description
This is a map of the Star Wars galaxy, based on the 'Star Wars: Essential Atlas.' As a medium-sized map, nearly 170 planets & ships of relative key importance made their way onto this galactic chart.

Full guide here: https://www.warlight.net/Forum/125010-new-star-wars-galaxy-mapguide. Most planets are worth 2 each, while some are worth 3. Most fleet ships are worth 1 each. Coruscant is worth 4. All other regions or route bonuses are labelled & color-coded in game. More info in the link to the guide provided.

Scenario distributions exist for every major era of Star Wars. For FFA games, selecting the proper distribution at the beginning according to how many players there are is important to keep the map balanced from the start. Standard FFA distributions are labelled according to number of players for ease in creating games.

Note: This map may not work on some mobile or tablet devices because of its size and detail.