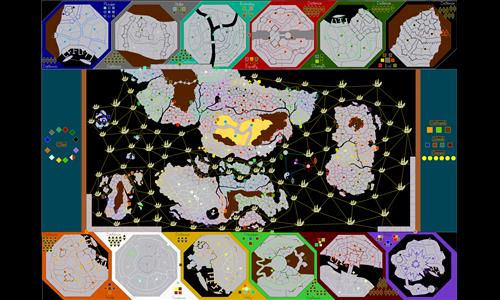 Twelve Cities
Unlocks at level 19 or with the
Mega Maps Pack
#Fictional
Created by

Niobium2
(
all
)
Went public on 11/21/2015
Number of ratings: 117
Average rating: 4.0854 / 5
1766 territories, 771 bonuses, 8 distribution modes
Description
A very big, lore filled map, with tons of chokepoints. Intended for Diplomacy style games. Quite complicated, but well worth it.

IMPORTANT NOTES: Hosts / Anybody you play this map with should be familiar with city zoom maps, as they define the map basicaly. Cities that are zoomed in are represented with OCTAGONS. It is heavily advised that you include ABANDON/BLOCKADE cards, as there are a lot of negative bonuses you might accidentaly take and wish to get rid of.

My first map, this large world revolves around 12 superpower cities, each with defenses and economies that give them units for holding the surrounding lands and make them harder to besiege.

Many concepts in this map are experimental, and many of the territory names do tribute to various other works I admire.

Thanks to the Warlight community, especially E Masterpierround and Fenway for helping me test and design.

Enjoy.