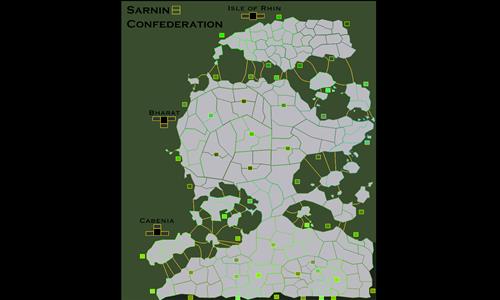 Confederation of Sarnin
Unlocks at level 4 or with the
Mega Maps Pack
Created by

҈ * TeeMee123҈ *
(
all
)
Went public on 5/9/2016
Number of ratings: 31
Average rating: 3.7419 / 5
190 territories, 61 bonuses, 2 distribution modes
Description
A completely fictional nation, not real-world. Name made up of 'Sardinia' and 'Benin'.
I used an app I made to generate the territory and bonus names.
Details of it here: https://www.warlight.net/Forum/151417-map-making-tool-fast-ids-naming
Reviews
Review by

Ranek
on 5/10/2016.
Decent little map with mainly small bonus values.
2 out of 2 people found this review helpful.
Review by
Nathan

on 5/12/2016.
I agree with Ranek - a quality map. I could not give it five stars, however, as the north is somewhat OP based on the relative ease of acquiring and defending its superbonus.
Response by map creator

҈ * TeeMee123҈ *
on 6/8/2016
It should be harder to initially get income in IoR as the bonuses are much larger, making it risky as a pick. I put many sea connections in, so many in fact that every territory on the south coast has at least one going from it, which means that even if you did take over the island, you still are at risk from mainland attacks.
EDIT: I have made a new version which drastically reduces the value of superbonuses (from 20 or 25 to 3 or 4)
1 out of 1 person found this review helpful.
Review by
Andalorium
on 1/2/2017.
The bonuses seem a little off balance I can't quite say why but it played different, and not in an exciting way. Interesting maybe, but I still can't put my finger on it.
0 out of 0 people found this review helpful.