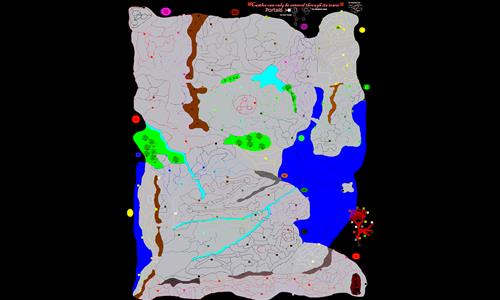 Dark Tower: War for All-World
#Fictional
Created by
Dr. Evil
(
all
)
Went public on 5/19/2015
Number of ratings: 60
Average rating: 3.45 / 5
509 territories, 137 bonuses, 1 distribution mode
Description
There are 6 portals in this map. The four doors led to each other, the two "grapefruits" led to each other. There is also an Island but it has a -6 to discourage its use after hitting one bonus. Each portal is labled as a portal as well to where the portal leads to. On top there is a bonus link, that highlights all the portals. And a Bonus link on how the castles work.

The upper portion, In-World and The Outer Arc are slower playing territories since there arent a bunch of portals there. The Lower portion, Mid-World and End-World are faster playing territories since they have all but one of the portals there, and are more sandwhiched together then the ladder portion.

The map was intended for 3v3 or 4v4 with selection of territories. There are some choke points so you can work on backside bonuses but overall its a very offensive map.

Sorry its a bit rough, but I did my best to clean up the territories which were all hand drawn. Oh and yes this is my first map. Say thank you sai.