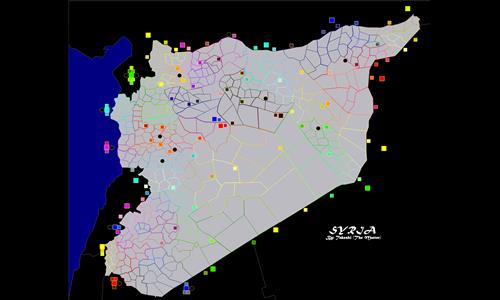 Syria
Unlocks at level 12 or with the
Mega Maps Pack
#Real World
Created by

Aura Guardian

(
all
)
Went public on 8/11/2015
Number of ratings: 83
Average rating: 3.6626 / 5
412 territories, 131 bonuses, 4 distribution modes
Description
In this map, I began to expirment with beziers and found that they were much easier to deal with. Also, I learned what a medium sized map entails, and probaby can infer about how long it will take me to make a large sized map. In this map, I also leaned how to attach images to make the map more personalized and not "just another map".

My second map overall.
My second map in the "Fertile Crescent Series."
My second contribution to "The World Project".

Map Versioning log:

1.0: Map Crated
1.1: Fixed Missing/extra connections, Added distributions.
1.2: Complete Megabonus Overhaul. Artistic Elements Added.