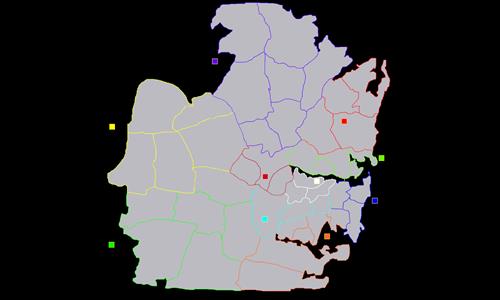 Greater Sydney Region
Unlocks at level 2 or with the
Mega Maps Pack
Created by
Cap.Ming1000 "Sabre"
(
all
)
Went public on 4/3/2015
Number of ratings: 26
Average rating: 3.230 / 5
44 territories, 10 bonuses, 0 distribution modes
Description
Sydney as you never seen it before!

Battle across the local areas and suburbs of Sydney's Inner Subrubs, North Shores, South Western Plains and over the Parramatta River! Who would be crowned the King of Sydney!

This Map is recommended for 2-3 people. It is an easy level map. This map is quite rough (I will be making a better one in future), it isn't extremely detailed (It is based on the LGAs of Sydney), and it isn't fully accurate with proper locations. A better version will be made soon.
Reviews
Review by
Hard Man
on 4/10/2015.
Perfectly functional with standard play. Good job.
2 out of 2 people found this review helpful.
Review by
Lt. Acer
on 9/18/2016.
Great map for 1v1 play. Love it, 'specially since I'm a westie :D
1 out of 1 person found this review helpful.
Review by
Daryle
on 4/10/2015.
Fun map for one on one. Could use at least one cross map route to make it more interesting though
1 out of 3 people found this review helpful.