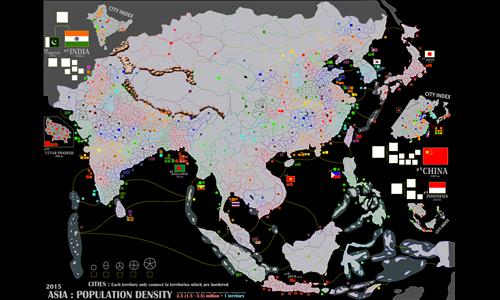 Asia: Population Density (with bonuses)
Unlocks at level 5 or with the
Mega Maps Pack
#Real World
#Asia
Created by
muligan
(
all
)
Went public on 3/2/2015
Number of ratings: 277
Average rating: 4.1768 / 5
1500 territories, 471 bonuses, 4 distribution modes
Description
Hi everyone , this is a population map of Asia which is inspired by
''Issander's New Europe 2: Population Density (with bonuses)''.
However , some game mechanics and geographic facts are different from Issander's map.

1.
Each territory has a population of 2,500,000 in average (Ranged from 1,500,000 to 3,500,000).

2.
Territories of Tibet , Balochistan , Kashmir , Bhutan , Mongolia , Qinghai , Primorsky , Maluku ...and all the territories that worth 0 army per turn : Have less than 1,500,000 population in each.

3.
To make Tibet not connect to too many territories . Extremely high mountains are not passable , the passage between the mountains are based on real roads.

4.
Cities give you the same amount of armies as the amount of territories they have. Many suburban territories are likely to be out of their real shapes ( because there aren't enough space for the Central Cities)

5.
City territories only connect to territories they ''touch''.