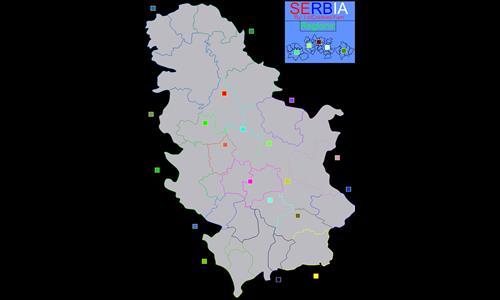 Small Serbia
Unlocks at level 5 or with the
Mega Maps Pack
Created by
LolCookiesYum
(
all
)
Went public on 12/19/2014
Number of ratings: 31
Average rating: 3.290 / 5
32 territories, 25 bonuses, 0 distribution modes
Description
Small serbia, ideal for 1v1s or 1v1v1s, this is just a quick map a made, *also includes kosovo*, i'm currently working on a diplomacy map of balkan, which will include Serbia, Bosnia, Croatia, Romania, Bulgaria, Macedonia, Albania, Greece, Kosovo, Slovenia and Montenegro. It should come out this or next week.
Reviews
Review by
Little Blue
on 12/19/2014.
Nice map, I think it could just use a couple changes.

1 - Offset the borders for bonuses as shown here: http://wiki.warlight.net/index.php/Map_guidelines

2 - Fine-tune the bonus values. While you have the same values depending on how many territories are in each bonus, that doesn't account for other factors. Vojvodina is 6 territories, and has a total of 12 bonus units. Central Serbia has 8 territories, and a total of 13 bonus units. The problem is, defending Vojvodina only requires defending 3 territories, and defending Central Serbia requires defending 8 territories. Similarly, the Kosovo bonus is 6 territories for 12 units, but requires you to defend 4 territories. This makes the Vojvodina bonus unbalanced compared to all the others.

3 - It seems like a lot of bonuses for a small map, I might consider removing all the single-territory bonuses.
Response by map creator
LolCookiesYum
on 12/20/2014
Thank you for your feedback, it's really helpful, will fix all the issues and lower vojvodina's bonuses in the next version. :)
4 out of 5 people found this review helpful.
Review by

Olkani [PG]

on 7/12/2015.
good 1v1 combat map for a fast Game!
0 out of 0 people found this review helpful.
Review by
squirrel 🐿
on 12/5/2018.
Way too easy
0 out of 0 people found this review helpful.