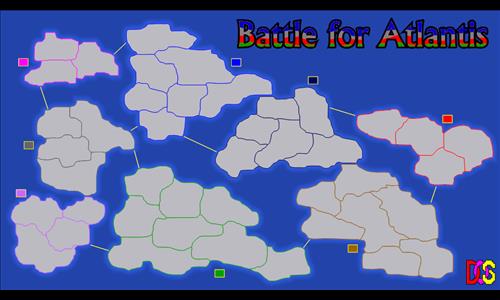 Battle for Atlantis
Unlocks at level 3 or with the
Mega Maps Pack
Created by
benc
(
all
)
Went public on 12/10/2014
Number of ratings: 50
Average rating: 3.4 / 5
43 territories, 8 bonuses, 2 distribution modes
Description
This is a remake of the classic DOS Risk clone, BATTLE FOR ATLANTIS.

Released in 1990 by Soleau Software, this shareware game featured EGA (16 color) graphics, PC speaker sound, and keyboard-only input. Players fought against 3 AI players. During the game, armies were at the mercy of earthquakes that struck random territories. Screenshot: http://imgur.com/eS6N6FO

In WarLight, the map translates into a small battleground suitable for quick games of 4 players or fewer. Enjoy!