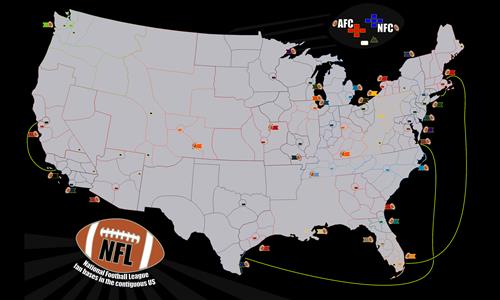 NFL
Unlocks at level 4 or with the
Mega Maps Pack
#Real World
Created by
benc
(
all
)
Went public on 12/14/2014
Number of ratings: 49
Average rating: 3.6122 / 5
240 territories, 88 bonuses, 4 distribution modes
Description
This map divides the contiguous US by where its NFL fans live.

For anyone not familiar, the NFL is the top professional league for gridiron football in the US. Each year, the NFL's 32 teams compete in a season followed by a playoff. It's the most popular sport in the US -- much like football (soccer) in the rest of the world.

This map is based on data from social media, correlating geographic location with tweets and Facebook likes. Some teams' territories have been adjusted to make a playable WarLight map. Don't be offended if your favorite team has fewer territories or a smaller bonus than its arch-rival -- it's all for the sake of balanced gameplay!

Twitter source: https://blog.twitter.com/2014/nfl-fan-map-where-are-your-team-s-followers

Facebook source: https://newsroom.fb.com/news/2014/09/2014-nfl-on-facebook/

Enjoy!