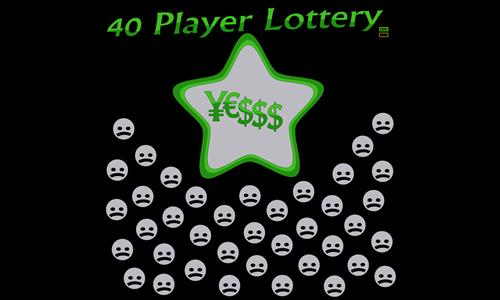 Cash Money Lottery
Unlocks at level 7 or with the
Mega Maps Pack
#Novelty
#Lottery
Created by
benc
(
all
)
Went public on 12/10/2014
Number of ratings: 286
Average rating: 2.951 / 5
40 territories, 2 bonuses, 18 distribution modes
Games on this map are never considered pure-skill.
Description
Yet another lottery map. Yay.

Recommended template: https://www.warlight.net/SinglePlayer?TemplateID=561894

General tips if you want to make your own lottery template:

LIGHT FOG OR HIGHER. Helps filter out the other players when forced to choose a different color.

RANDOM MOVE ORDER. Duh; lotteries are all about luck.

DO NOT OVERRIDE BONUSES OR USE A CUSTOM SCENARIO. Even if you're not doing something unfair, it's still a waste of time to have to check.

AUTOMATIC DISTRIBUTION. Manual is a) inappropriate because it is based on how quickly you can click the territory rather than luck; and b) an extra turn that's a waste of time.

BASE NUMBER OF ARMIES: 3 OR HIGHER. When the winner spot ends up neutral for whatever reason, players need a reasonably fast way to capture the top spot.

UNIQUE NAME FOR EACH GAME. Makes it easier for players to join all instances of your lottery template, handy if you're running several at once.

Have fun!