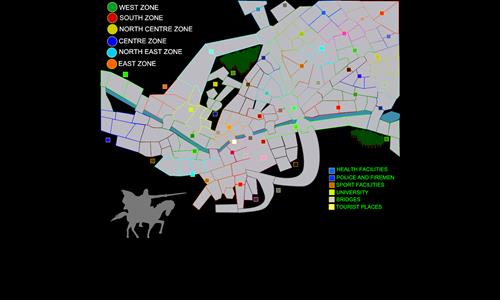 Burgos City (Spain)
#Real World
Created by
deporteam
(
all
)
Went public on 1/1/2015
Number of ratings: 53
Average rating: 3.5471 / 5
182 territories, 63 bonuses, 0 distribution modes
Description
Current map of the city of Burgos, in Castilla y Leon (northern Spain), historic capital of the Kingdom of Castile.
Reviews
Review by
Nathan

on 1/7/2015.
Not the most visually appealing map, but still a decent play. While I don't normally like scattered bonuses (e.g., Bridges), here they are large enough in value and realistically defensible that they can actually factor into gameplay. All in all, this is a nice board for 3-5 player FFA.
Response by map creator
deporteam
on 1/7/2015
Thank you, this was my first map, i'll try to improve the design if i do any new map now that i've become more familiar with all the stuff.
2 out of 2 people found this review helpful.
Review by
Christian 'Thor' Picard
on 1/8/2015.
Interesting map. Getting the edge is actually hard, which made the beginning quite entertaining. But once you get that edge, there is no more challenge.
1 out of 1 person found this review helpful.