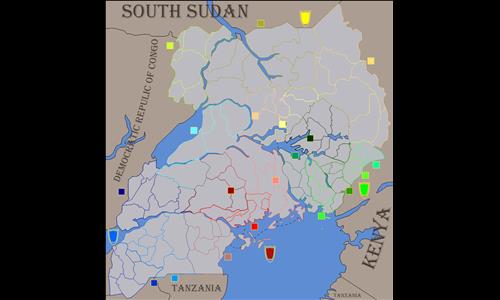 Uganda
Unlocks at level 13 or with the
Mega Maps Pack
Created by
MrOobling
(
all
)
Went public on 11/14/2014
Number of ratings: 56
Average rating: 3.5535 / 5
112 territories, 23 bonuses, 1 distribution mode
Description
A medium sized, strategic map of Uganda with rivers to navigate around.
Reviews
Review by
Red Menace
on 11/16/2014.
Positive:
Love the detail and that lakes/rivers were included which adds choke-points and map accuracy. Clean borders and overall good design.

Negative:
A territory in the west is called "hOIMA" which I think is supposed to be called "Hoima"! Also, why do the super bonus shields have flat bottoms? Doesn't look to good. Finally, I myself don't like the chosen bonus colors you have in the north, but that's just me.

4.4/5
3 out of 3 people found this review helpful.
Review by
Nathan

on 11/17/2014.
Nice map. It's fun to play and, perhaps surprisingly for a real-life map, has excellent chokepoints in strategic positions.
3 out of 5 people found this review helpful.
Review by
Erzherzog

on 6/9/2020.
there are a lot of rivers and the sea, which blocks your way here and there. that makes it interesting to play in this map.
also its visual well done.
0 out of 0 people found this review helpful.