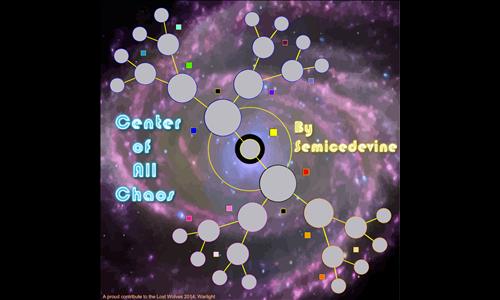 Center of All Chaos
Unlocks at level 2 or with the
Mega Maps Pack
#Novelty
Created by

Semicedevine

(
all
)
Went public on 10/22/2014
Number of ratings: 50
Average rating: 2.96 / 5
31 territories, 17 bonuses, 16 distribution modes
Description
A large contribute to the Lost Wolves Clan 2014.

Original Unchanged Names Mentioned:
GodKungRoaringCow
Keyes
Relmcheatham
Kellen the Conquerer
WARLORD
Darwin
Dom
Maelstrom
Awesomebeast94
Plutonium
Awesomedude. AD
ArchangelMike
AMERICAN EMPIRE
Rommel
Andrew
McMuller
Wumbologist
Mister Kl
link
Mortar man
Exalted Lord
Sithu Min
Sleepybear
☭Fyre☭
Alias09
Foxy Toxi
Jimmy, The Non-Filthy Casual
Dat Dankness Rules
Napoleon Capone
Consequence777
Semicedevine

At first sight, it may look like the bonuses are underpowered, but they are for good reason too. This is to prevent players from getting too powerful and to prevent the game's outcome to be determined early on when one side of the map is taken over by a single player.

Several tactics and Strategies can be deployed. The map itself is considerably flexible enough I suppose.

The chokepoint in the center was formed on purpose, it was to make the map more difficult and not as "easy going" of course.

Also, the artwork is there to make it colorful of course!