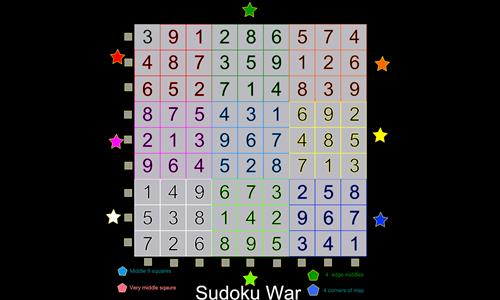 Sudoku V1.0
#Novelty
Created by
Captain Teemo
(
all
)
Went public on 9/25/2014
Number of ratings: 43
Average rating: 3.3255 / 5
81 territories, 30 bonuses, 3 distribution modes
Description
Sudoku Map by Captain Teemo

V 1.1- Changelog

Fixed a bug where magenta gave less than other boxes. (Rose from 4 to 5)
Nerfed the center number bonus from 3 to 2.
Added a bonus to correspond with 4 corners, except for the edges.
4 corners bonus nerfed from 10 to 8.
Fixed a bug where 52 and 72 connected.