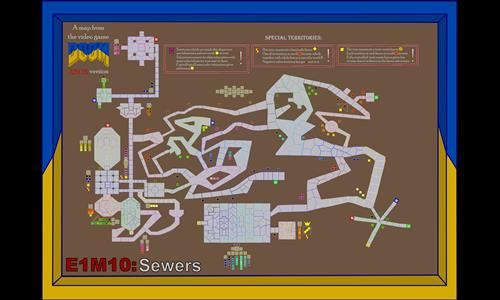 Sewers
Unlocks at level 15 or with the
Mega Maps Pack
#Fictional
Created by
Phakh Gokhn

(
all
)
Went public on 8/12/2014
Number of ratings: 54
Average rating: 3.537 / 5
634 territories, 270 bonuses, 27 distribution modes
Description
This is a map from the video game DOOM XBOX edition. More information about it can be found on Doom Wiki http://doom.wikia.com/wiki/E1M10:_Sewers_(Xbox_Doom)

This map may not be perfectly balanced for FFA or 1v1 games, So if you find this map to be such, you should adjust bonuses values yourself to make them balanced for your game.

This map features negative value bonuses which icons are not shown on the map. In case you notice, that someone has set one of them secretly to high value, you can discover that bonus by hovering over territories names. Their names are same as bonuses'.

I did my best to ensure that all territories which connect at least via corners have got connection between them. If you find any 2 territories on the map which definitely touch but don't connect, inform me about them and they will be connected swiftly.