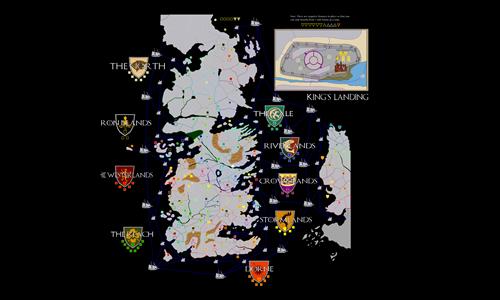 A Game of Thrones - Westeros Diplomacy
#Fictional
#Diplomacy
#Fantasy
Created by

Dameon
(
all
)
Went public on 10/12/2014
Number of ratings: 462
Average rating: 4.1709 / 5
351 territories, 209 bonuses, 7 distribution modes
Description
Credit to Pharaoh for helping out with art and Thulk for helping out with the names.

This is a map of Westeros, Braavos, and Pentos. It is set roughly at the start of the ASOIAF series.

This is a smaller version of the "A Song of Westeros and the Free Cities" map. This is designed to be more suitable for real-time games.

Features:
-Income is focused around holding cities and castles

-You will recieve a bonus for every capital (hexagons/octagon in western continent) and castle (pentagons in western continent) combination you hold that are in the same regional bonus. There are no capital bonuses for Essos (eastern continent).

-There is a map of King's Landing in the top right corner. There are 4 titles bonuses that can give you income, however there are negative bonuses in place so that you can only benefit from 1 at a time.

These title bonuses are designed to be given out to allies in diplomacy games, but make sure you trust them otherwise you might be giving them a very convinient betrayal!