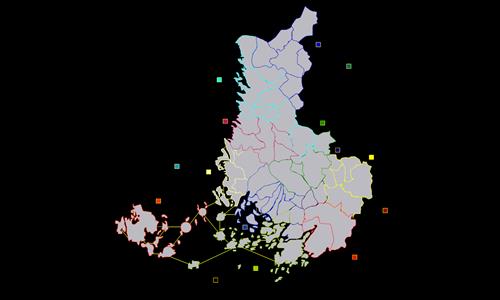 Southwestern Finland
Unlocks at level 2 or with the
Mega Maps Pack
#Real World
Created by
JKChaos
(
all
)
Went public on 7/21/2014
Number of ratings: 39
Average rating: 3.3333 / 5
66 territories, 14 bonuses, 0 distribution modes
Description
Southwestern Finland - the shores of the Baltic Sea.

This map consists of over 60 territories and is based on real maps of Finland. Recommended player limit is 4 players.

Plan your strategy carefully: you can choose to attack to mainland from sea, strike your enemies from north or hold the line in east. Who will gain the control of this land? It`s up to you.

I`m quite new at this.
Reviews
Review by
Nathan

on 7/22/2014.
Another fine board. You have greatly improved the graphics in this one. The borders are far cleaner than in your previous Finland map. However, they could still be cleaned up a bit. If you are using Inklight to create your SVGs, you can switch to the node-view mode and manually drag the nodes closer together where there are gaps between them, such as at the intersections of Pori, Nakkila and Ulvila. Doubtless more experienced mapmakers than I know better techniques, so definitely ask for advice from everyone you can.

As far as game mechanics, this board is top-notch. The only thing I would change is perhaps to include Somero in Eastern Finland Proper, as it appears to be the only region that is not part of a superbonus.
1 out of 1 person found this review helpful.
Review by
Chris
on 1/6/2023.
good but small
0 out of 0 people found this review helpful.