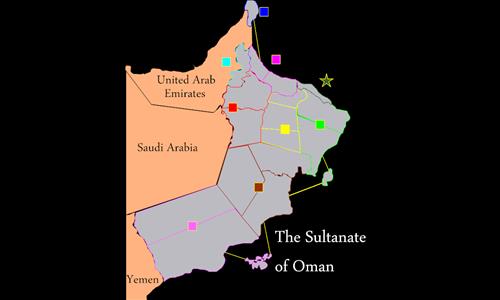 The Sultanate Of Oman
#Real World
Created by
thetigers10
(
all
)
Went public on 7/1/2014
Number of ratings: 41
Average rating: 3.0243 / 5
19 territories, 9 bonuses, 2 distribution modes
Description
On the edge of the Arabian Peninsula, the Sultanate of Oman sits. This is a map of Oman and it's regions. Muscat is the capital. Hope you enjoy playing on this map!

P.S. This is my first map so I know the drawing isn't perfect and I might not have got it all right, but I thought I did ok for my first map. Thanks for playing my map!
Reviews
Review by
barakobama
on 8/1/2014.
The map is unbalanced. It is easy to win from the south end because of point distribution
0 out of 0 people found this review helpful.
Review by

DanWL

on 7/2/2014.
It would be better if you made a more detailed version of this.
Response by map creator
thetigers10
on 7/3/2014
How so? Do you mean with smaller territories?

0 out of 1 person found this review helpful.