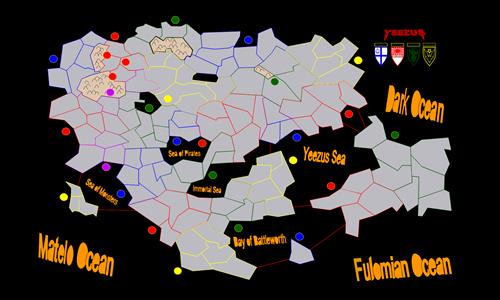 World of Yeezus
Unlocks at level 34 or with the
Mega Maps Pack
#Fictional
Created by
Red Menace
(
all
)
Went public on 6/26/2014
Number of ratings: 37
Average rating: 3.4324 / 5
114 territories, 32 bonuses, 2 distribution modes
Description
In a world divided by waring kingdoms, there are a select few who can conquer it. Will it be you? The Kingdom of Alford, holding some of the known world's most well-trained armies. The Ork Tribes of Estain, united under the common goal of human extirmination. The Elven Empire of Etheria, legends say it's armie's march could be felt from distances beyond sight. And lastly, the Empire of Makdania, "conquers of the sea" as it's called by those who've dared face it.

The map is best played in large FFA or team games. This is the second map to my map making collection, and is based off of nothing but my imagination. Recommended settings: http://warlight.net/MultiPlayer?TemplateID=476620
Reviews
Review by
Nathan

on 10/16/2014.
*Edit* 10/16/14

Much better balance now. Changing my rating to a 5. Great job!


******

Pretty good gameplay. However, it seems to me that the western coast is disadvantaged by not being part of a superbonus. Darkwood and Fallden are relatively close to the Fertile Lands, so that may offset it some, but Westerlight is significantly less valuable than the other bonus regions.
Response by map creator
Red Menace
on 6/28/2014
EDIT: The Western Coast has been edited to balanced levels!
1 out of 1 person found this review helpful.