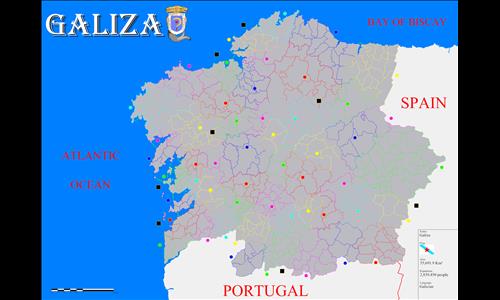 Separatist Galiza
Unlocks at level 5 or with the
Mega Maps Pack
Created by

alex23
(
all
)
Went public on 6/20/2014
Number of ratings: 59
Average rating: 3.7118 / 5
385 territories, 59 bonuses, 0 distribution modes
Description
Map of a Northwest region in the Iberian Peninsula, based on the nacionalist pretensions of (mainly former) Galician separatist.
This is not trying to encourage that movement and I hope not to offend anyone with this. The main reason I do this with this "idependentist" map and not an actual real map, it is because this is the best and more detailed map I found of the region.

I hope you all enjoy it!
Reviews
Review by
Nathan

on 6/20/2014.
Nice map - well-conceived and elegantly executed. I appreciate you including the possibility of superbonuses for controlling each province even though they don't factor much into a standard game. And - one of my favorite things - you actually made water blue! That always looks much nicer than leaving it black.
3 out of 3 people found this review helpful.
Review by
exoticjoe
on 4/26/2020.
O melhor mapa da Galiza dende Fraga
1 out of 1 person found this review helpful.
Review by
barakobama
on 6/22/2014.
long and boring. it was too easy and lacked terrain features
0 out of 2 people found this review helpful.