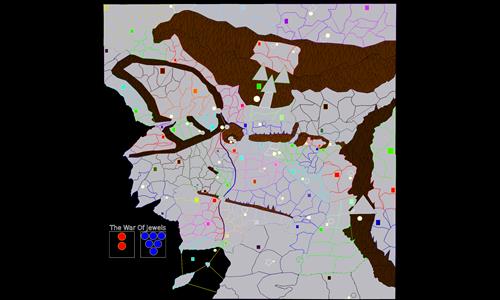 Beleriand
Unlocks at level 14 or with the
Mega Maps Pack
#Fictional
Created by

Imperator
(
all
)
Went public on 6/10/2014
Number of ratings: 43
Average rating: 3.5813 / 5
355 territories, 96 bonuses, 3 distribution modes
Description
A map of Beleriand, The Place which many of the events of the silmarillion take place.

This map is made primarily form two different sources, one of which of course is the map of beleriand found in the silmarillion. However, I did use a secondary source for the Lands North of Anfuaglith, which of course aren't included in the map from the silmarillion. This source was karen-wynn fonstads map of beleriand, which does include angband and a portion of Dor Daedelos. I decided that angband was such a crucial place in beleriand that it wouldn't be a very good decision to exculde it.

However, becuase of this, None of the regions north of Anfauglith should be considered Canonical, even in the strict sense of karen-wynn fonsatds work. The reason for this is because I only adopted the shape of the Land from the atlas of middle earth. The borders of everything in dor daedelos(with the obvious excepetion of Angband) were just made up by me.

Everything south of anfuaglith is canonical though.