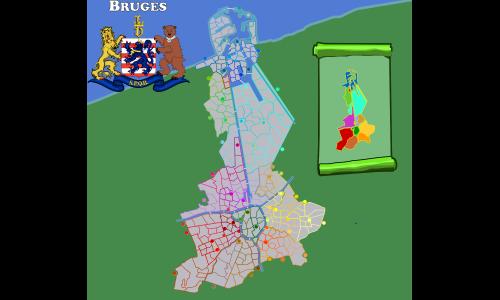 Bruges
Unlocks at level 29 or with the
Mega Maps Pack
#Real World
#Local
Created by

Belgian Gentleman
(
all
)
Went public on 5/28/2015
Number of ratings: 65
Average rating: 3.7076 / 5
280 territories, 75 bonuses, 5 distribution modes
Description
Bruges is a classical medieval looking city that has a wide timespan of history. Due the growing number of tourists in the modern times, the city has taken some new steps to adapt their behaviour and culture to the tourists. The major change is a new set up religion: the Belief In Money from the Tourists aka BIMT or greedbeings. Furthermore has Bruges a nice decorated prison in the east where you can visit the emprisoners and laugh at them how they got there. Concluded: Bruges is a dangerous city. you should never go there!

Updates
V1.1 fixed the overriden connections
V1.2 visual update
V1.3 background correlation with the thumbnail
Reviews
Review by
Nathan

on 5/28/2015.
Terrific map. The artwork is visually appealing and the territories are clearly marked and connected. The bonuses are manageable and defensible, and the superbonuses are apportioned within reason. The map really gives a great picture of the geography of Bruges. I enjoyed it both intellectually and for the great gameplay it supports.

One question - is the connection between Langestraatkwartier in the city center and Vogelzang in Tillegem intentional? It came as quite a surprise and without markings, so I assumed it was a mistake. But if you do intend the connection to exist, it should probably be marked in some way to make it immediately apparent.
Response by map creator

Belgian Gentleman
on 6/7/2015
No the connection actually was a mistake. Thank you for your assistance.
2 out of 2 people found this review helpful.
Review by

Ysayell1
on 6/3/2015.
One of the best FFA maps I've played. Works solidly in single player too. One thing that warrants clarification: There are several connections across the river without bridges, and several areas where there is no bridge and no connection. Consistency would be VERY much preferred. Extremely solid map though, just the same
2 out of 2 people found this review helpful.
Review by
indiman112
on 6/21/2015.
Fun game play
0 out of 0 people found this review helpful.