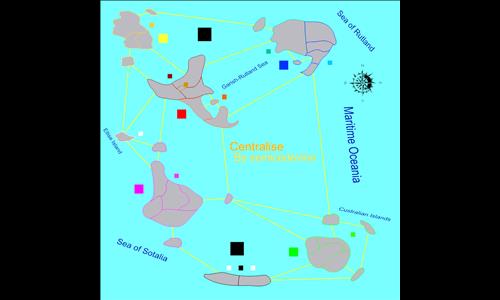 Centralise
Created by
Semicedevine

(
all
)
Went public on 4/21/2014
Number of ratings: 49
Average rating: 3.4489 / 5
37 territories, 19 bonuses, 0 distribution modes
Description
A Fictional map in which 6 land masses are present. This is also the first official map created by semicedevine.

In this map, players can choose from a range of strategic solutions to solve problems that may arise throughout gameplay. The map itself looks quite simple, colorful, and creative, yet there are many different ways to win on this map.

Notice that the North Allegiance income bonus is "Superior" while the South Union income bonus is "Inferior". This is because if all of the northern territories are captured, they will give a greater income bonus of 1 more than if all of the southern territories are captured.

Faultland is the 6th land mass and consists of two territories and an income bonus of just 2 armies. However, if a player owns both mainland Sotalia or Custralia and Faultland, they will receive 4 more income bonus. This makes Faultland a strategic region to conquer for Sotalia and Custralia.
Reviews
Review by
Krulle
on 4/23/2014.
Great map, yet I fully agree with Nathan. Once either one has northern or southern Union bonus, the game is decided.
Response by map creator
Semicedevine

on 4/24/2014
Acutually, conquering the northern or southern side is just one of the several strategies that can be used on this map. I gave the game large bonuses, so a player can attack another to prevent the other from taking a whole bonus. I gave Garia a high income because it is more likely for more players to attack it than any other island.

This game presents the strategy of attacking another player to specifically lower income, and the strategy of keeping and defending at least one territory that is part of a larger bonus that another player has mostly claimed.

"If one player takes over the northern side, than why don't the other players get smart and attack that one player to take away the income? (this applies to humans, not AIs)"

Although I do agree that I may have accidentally given this map too big of a bonus income...
2 out of 2 people found this review helpful.
Review by
Nathan

on 4/22/2014.
Great map. My only issue is that the North-south bonuses are way too big. I jumped from an income of 18 to 49 in one turn. It's a huge imbalance.
Response by map creator
Semicedevine

on 4/25/2014
Yeah, your're right. I changed the bonus from 15 to 5 in the new version that I've uploaded. I should help to make the map more fair.

Also, part of the reason for the 18 to 49 income jump might be because you took over a territory that contributed to many different income bonuses which gave you a large income boost (Example: Garia Central belongs the South Garia, Garia, and the North Bonuses) I can't really help out with this though, this is more of a strategy instead of an issue.
2 out of 2 people found this review helpful.
Review by
[NL] Willem van Oranje
on 7/24/2014.
Not really a great and exciting map, but the map is well desined and playable.
2 out of 2 people found this review helpful.
Review by
Daryle
on 1/25/2015.
This map is small however it can be very challenging when it is over crowded
0 out of 0 people found this review helpful.
Review by
Semicedevine

on 4/21/2014.
An amazing, colorful, and bright map. Although the map is very simple, the map allows for players to choose a variety of strategies to use against others during gameplay.
1 out of 5 people found this review helpful.