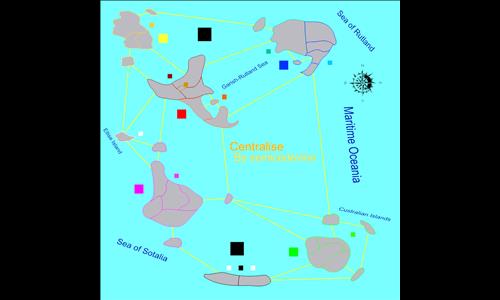 Centralise
#Fictional
#Fantasy
Created by

Semicedevine

(
all
)
Went public on 4/21/2014
Number of ratings: 198
Average rating: 2.106 / 5
37 territories, 19 bonuses, 0 distribution modes
Description
A Fictional map in which 6 land masses are present. This is also the first official map created by semicedevine.

In this map, players can choose from a range of strategic solutions to solve problems that may arise throughout gameplay. The map itself looks quite simple, colorful, and creative, yet there are many different ways to win on this map.

Notice that the North Allegiance income bonus is "Superior" while the South Union income bonus is "Inferior". This is because if all of the northern territories are captured, they will give a greater income bonus of 1 more than if all of the southern territories are captured.

Faultland is the 6th land mass and consists of two territories and an income bonus of just 2 armies. However, if a player owns both mainland Sotalia or Custralia and Faultland, they will receive 4 more income bonus. This makes Faultland a strategic region to conquer for Sotalia and Custralia.