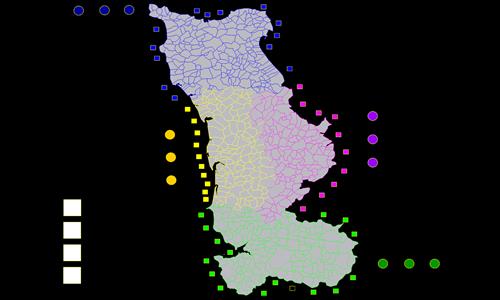 Grande Manche
Unlocks at level 10 or with the
Mega Maps Pack
#Real World
Created by
Jaures
(
all
)
Went public on 4/10/2017
Number of ratings: 22
Average rating: 3.1818 / 5
601 territories, 64 bonuses, 0 distribution modes
Description
La carte de toutes les villes Manchoises enfin disponible !
Alors plus qu'une chose, amusez vous !
Map created by Francis Bré.
Reviews
Review by
Nathan

on 4/10/2017.
I really want to like this map. The problem is there are so many broken and improper connections that you can't really focus on gameplay. A list of the ones I came across follows below.

Also, while the bonus values are out of control, they can easily be turned down. The problem is the imbalance. Some bonuses have more bonus armies than territories, while others award armies at about a 2:1 ratio.


Montaigu-La-Brisette - Octeville-L'Avenel
f - Huberville
AAA - AAAAAAAAA
FGHHFGGH - GHJHFJF
PPOOOPOOO - ergererfds
edrtgef - ZEFZRFEZTHGRT
ERZF - 5RTEHFU6
B?YT?BTYUBYIT - TERYYTRTR
eocl - ERGERGESRGER
VB?VNVB - OULIKIKUIU?6?UN
KUITT7UJYYT - EGRRHRTHRTS
nyj - fyjtn
Le Valdecie - NGHTH?UJ?YT
MPOM - IO.MPO
IBU - TI
ZZZEZEQQQQQ - EEEFFFEFSSEEE
ZFERE3H3AH53 - RZEFERG5RYEHNJ
fyjtn - TYHTYJUJ
BRICQUEBEC - SOTTEVAST
yujkyuj - j
BREUVILLE - Saint-Martin-Le-Greard
GCR - B
HPOIUYTTRREZ - YYUUUUUUUUUUUUUUU
Sainte-Croix-Hague - Beaumont-Hague


I'm sending you the other improper connections in a message as they won't fit.
Response by map creator
Jaures
on 4/11/2017
thank you guy, i will correct this as soon as possible
3 out of 4 people found this review helpful.
Review by
Perhaps

on 5/9/2017.
Potentially a very good map. But very sloppy connections. Disconnects are all over the map.

And then there is "IOLOILOIMP", which, for no apparent reason, or visual clue, connects to "HYYHTHYTJTYHJRSTGE". Those two territories are far apart, yet they connect?

Pertaining to a review dated 04/10/2017, this map's author wrote, the next day, that he would correct the list of broken connections, supplied by the 04/10/2017 reviewer.

A month later, and this map is still a jumble of broken connections.
0 out of 0 people found this review helpful.