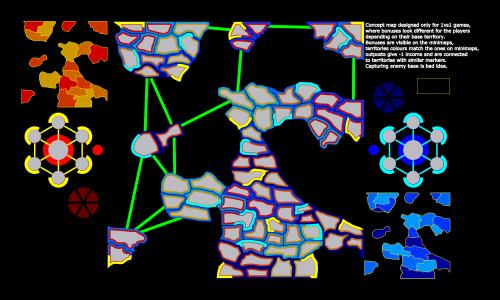 Dereulb
Unlocks at level 51 or with the
Mega Maps Pack
#Novelty
Created by

Rabbit
(
all
)
Went public on 7/20/2015
Number of ratings: 25
Average rating: 2.96 / 5
90 territories, 53 bonuses, 1 distribution mode
Description
This is just small, conceptional map designed for 1vs1.

The main idea was to make the map look different for players.

In order to make the map differ for players, I decided to introduce a "Base" territory "outside" the map, which belongs to all the bonuses visible on the map itself. Both players have 1 base, and there are 2 different sets of bonuses. This mean that once a player lose his base, he lose all the bonuses too.

Each base connect to 6 outposts, each connect to 2 territories on the map with similar markers. They are introduced mainly to lower repeatability of the map.

Bonuses can be traced with the use of the minimap, or the territories each having both red and blue borders.

As I said in the beginning, this is just a concept map, I would like to get some feedback on the way this idea is carried out. Mainly about the minimaps, borders, and connection indicators.

I know it's not as pretty as it could be, it was made as a warm up map, with bigger map that use similar concept in mind.