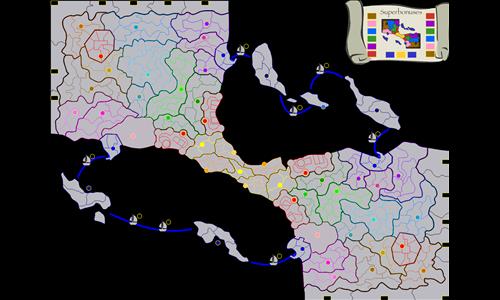 Isthmus
Unlocks at level 56 or with the
Mega Maps Pack
#Fictional
Created by
kendou
(
all
)
Went public on 11/13/2013
Number of ratings: 139
Average rating: 3.7985 / 5
343 territories, 89 bonuses, 12 distribution modes
Description
This map is exactly balanced for two players/teams.

You will find special territories that are call "Rest of the East / West". They are like reinforcment, each of them is a 0-supply bonus by default. You can set them to a more-than-zero value and play with the "From the far East / West" distribution (I like when only one is distributed and other are blocked by 500 neutral armies). You can also disable those territories by setting negative bonuses.

Hope you will enjoy !