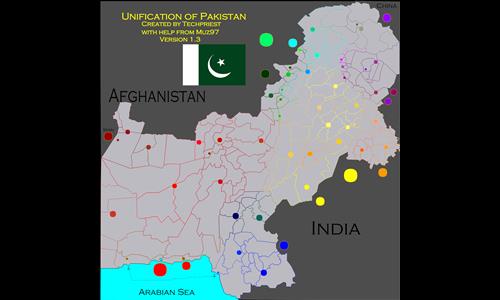 Unification of Pakistan
Unlocks at level 4 or with the
Mega Maps Pack
#Real World
Created by
Techpriest
(
all
)
Went public on 9/2/2013
Number of ratings: 51
Average rating: 3.4509 / 5
184 territories, 62 bonuses, 7 distribution modes
Description
A country of southern Asia. Pakistan was the home of the prehistoric Indus Valley civilization. Throughout the lands and time, the country stands with numerous rulers and powers constantly being divided and weakened with each rule. However, there is growing powers among Pakistan, if Pakistan are to be united and become an independent nation, only one may prevail and do such thing... whereas other countries are also in require of unificiation only a worthy leader may claim to reunite it.

Changelog:
1.1: Border remade
1.2: Included Pakistan disputed territories between India.
1.3: Included Afhangistan Balochistan and Unified North West Frontier.
1.4: Disputed territories connections are added.