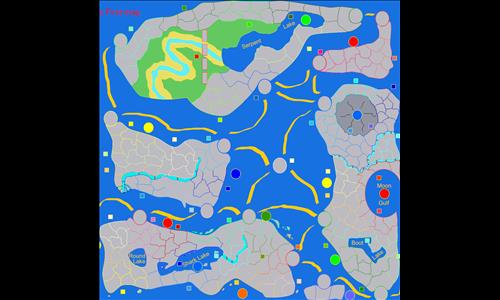 Naval War of Countries
Unlocks at level 4 or with the
Mega Maps Pack
#Fictional
Created by

CROivan
(
all
)
Went public on 7/22/2013
Number of ratings: 69
Average rating: 3.6376 / 5
242 territories, 60 bonuses, 1 distribution mode
Description
Summit Emp. is at it's peak. But, colonizing Serpent Lake Princip. and occupating Newer Mesopotamia makes them and their allies mad. With a help from Vaders First, Serpents will try to return their lands, while Moon Gulf Rep. will help their allies Newer Mesopotamia to gain independence. However, Rep. of Axinia will help Summit Emp. by declaring war on Moon Gulf Rep. Manserodasillian Commonwealth is at the edge of breaking apart. Torgian Sultanate wants to help Dasilla (north) because there is a significant minority of Torgians, while Princip. of Debilovina will help Manser (south) for the same reason. Khan. of Paniona wants to return it's lands. Blagh, Fagh and Cro belonged to it, but Shark Lake Emp. believe that itself was the only country that may have exit to Shark Lake, and since Blagh had coast on Shark Lake, then it occupied it. Because of this, Fagh and Cro became cut off from the Khanate so Inadium annexed them. Boot Lake King. and Lolland Rep. fight for Free Island.
Reviews
Review by
OTPM
on 1/4/2015.
ㅎㅎ
1 out of 1 person found this review helpful.
Review by

Krulle
on 7/25/2013.
Could use a few territories mroe, and could do without the Pirate Island
Response by map creator

CROivan
on 7/26/2013
If you mean on the northern island, i didn't want to do territories on that jungle because I was lazy :P
I had to put Pirate Island, so it can be center of the game. You can put positive army value of it so players fight for it
1 out of 2 people found this review helpful.